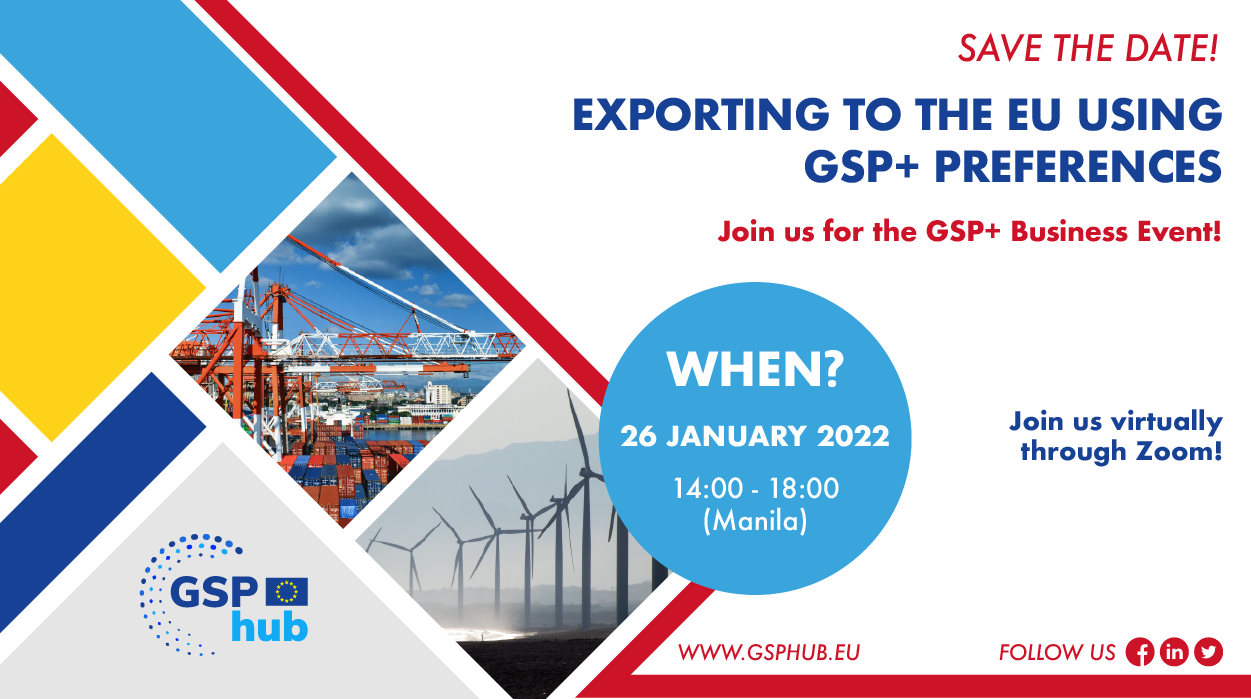 The GSP+ Business Engagement Workshop in the Philippines will serve as an opportunity to engage in dialogue and build relations with local and international stakeholders. The workshop will be organised as a business-focused event aiming to facilitate and encourage the exchange of local experiences, knowledge, and best practices with the EU's GSP+. The workshop will reinforce awareness of the benefits and opportunities the GSP+ provides for the business community and offers a platform to discuss how Filipino stakeholders can further maximise the advantages of the arrangement, e.g. with regards to less prominent sectors and persisting utilisation gaps. Finally, this workshop aims to identify and discuss areas and strategies for further economic diversification.
Watch the recording of the workshop below
Programme 
all times indicated in Manila time (GMT+8)
14:00 - 14:30   Opening Session 
14:00   Keynote and welcome - H.E. Mr

Luc Véron

, EU Ambassador 
14:10   Keynote and welcome - Mr Allan Gepty, Assistant Secretary, Industry Development and Trade Policy Group (IDTPG), Department of Trade and Industry (DTI)
14:20   Introduction to the GSP Hub Project - Dr Willem van der Geest, Team Leader, GSP Hub Project
 
14:30 - 16:30 Leveraging trade opportunities under the EU's GSP+
14:30   The GSP+ in the Philippines

Ms Kristiyana Kalcheva

, Policy Officer, Generalised Scheme of Preferences, DG Trade, European Commission

14:45     Export Talk: Rules of Origin

Mr Christophe Fontaine

, International Relations Officer - Preferential origin - General, GSP, Asia & Oceania, DG TAXUD, European Commission

15:00     Export potential of Filipino goods on the EU market

Ms Julia Seiermann, Market Analyst, International Trade Centre 

15:15      moderated exchange and discussion with participants
15:30      Panel Discussion: Leveraging trade opportunities under the EU's GSP+ 

Mr Angelo Salvador M. Benedictos, Director, Bureau of International Trade Relations, Department of Trade and Industry (DTI)
Mr Łukasz Grabowski, Deputy Director of the PAIH Export Centre 
Mr Florian Gottein, Executive Director, ECCP (tbc)
Ms Sherrylou Marzo, Head of Sales, Century Pacific Foods, Inc.
followed by moderated Q&A with participants 
16:30 - 16:50 Coffee Break
 
16:50 - 18:00  The GSP+, Business and Values
16:50   

Arise Plus in the Philippines: Fostering inclusive economic growth

Ms Maria Esperanza Alconcel,

National Project Coordinator, ITC

17:00     Panel Discussion "The GSP+, Business and Values"

Mr Bien A. Ganapin, Director IV, National Economic and Development Authority (NEDA)
Mr Eduardo Pedrosa, Secretary General, Pacific Economic Cooperation Council (PECC) 
Mr Jajoon Coue, Specialist on International Labour Standards and Labour Law, Interational Labour Oranization (ILO)
Mr Marco Reyes, Managing Director, Hancole Corporation
followed by moderated Q&A with participants 
18:00- 18:15   Closing Session 
Dr Willem van der Geest, Team Leader, GSP Hub Project
Mr Maurizio Cellini, Head of Trade and Economic Affairs, First Counsellor of the EU Delegation to the Philippines 
If you have any questions please contact us here: contact@gsphub.eu